Amelia Bedelia Books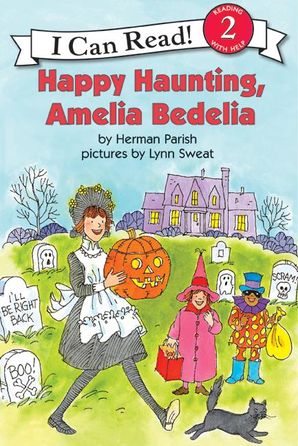 Happy Haunting, Amelia Bedelia
By Herman Parish , Illustrated by Lynn Sweat
Other Formats
Description
Learn to read with the classic Amelia Bedelia!
Ever since Amelia Bedelia made her debut in 1963, young readers have been laughing out loud at the antics of this literal-minded but charming housekeeper.
Trick or treat! Amelia Bedelia wants to help prepare for the big Halloween party, but how can she follow directions when nothing is as it seems? This Level 2 I Can Read is perfect for kids who read on their own but still need a little help.
"No child can resist Amelia [Bedelia] and her literal trips through the minefield of the English language—and no adult can fail to notice that she's usually right when she's wrong."—The New York Times Book Review
Product Details
Imprint: Greenwillow Books
Format: Paperback
On Sale: 07/25/2006
ISBN: 9780060518950
ISBN10: 0060518952
Pages: 64
Trimsize: 9.000 x 6.000 in
Subcategory:
JUVENILE FICTION / Humorous Stories
JUVENILE FICTION / Holidays & Celebrations / Halloween
JUVENILE FICTION / Readers / Beginner